A badass poem about the polar vortex, defined as "a low pressure area—a wide expanse of swirling cold air—that is parked in polar regions." We know it as the force that wreaked havoc here in the U.S. last week.
Tricia Knoll first published Pola Vortex as part of a "poetry marathon" put on by Tupelo Press, an indie press that publishes books of poetry. It was part of a 30-30 challenge—30 poems in 30 days.
The poems will be up through February here.
Thanks, Tricia, for sharing this one with us.
— S.K.
Pola Vortex 
I am the witch's tit.
You people never get me right. My bitch bra is made of silver, not brass. I make mirrors and hand you froth. I go by many names, but call me Pola. The lusty wind diva. Cringe all you like.
Be warned: Jail break! I am no longer stuck to the cloverleaf of north. I swoop down to kick ass on your sad little towns, clog your straight-arrow roads, shiver your timbers, and kill your weak. ICE? You ain't seen nothing yet. I lock you homebound.
I rub you raw. Push me with plows? I keep coming. I'm higher than your kites, clouds, skyscrapers and drones. My slip shows – flakey lace. White and quite long-wear-you-down. Hah! I'm a swirling hurl-a-girl layback spin, skating your way every chance I get on ice-sharp blades. Flashing my flowing skirts – silver thaw and midnight blue.
You ignored me. You favored rant-chants about warming. While the sea beneath me went soft. We are going to dance, you and me. Like it or not, I lead. Buckle up your boots. Snowshoes. All-wheel drive and all-weather coats.
You don't have time to tame me. I'm counter-clockwise. Pola revolutionary.
Fools unlocked the gate. I'm no more stay-at-home dame. Good times Pola Mama. You get what you deserve.
—Tricia Knoll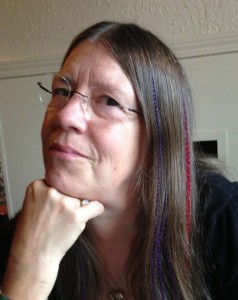 Tricia Knoll's latest poetry book, "
How I Learned To Be White
", delves into how ancestry, childhood, education, and more form a concept of white privilege . . . and what work is required to see through that privilege and live in this multicultural world. She lives in Vermont and you can read more about Tricia and her books
at her website
.